The City Museum is located in a building called Southern City Hall and it is Stockholm's oldest public building. The history begins in 1680 when Southern City Hall is completed. Or maybe even a little earlier: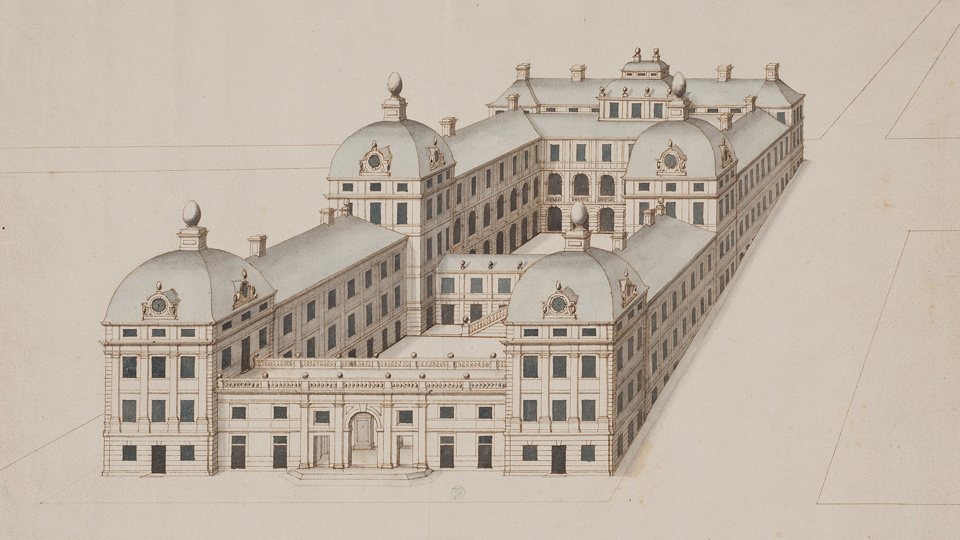 It didn't become a gigantic trading palace
In architect Tessin the Elder's drawings from 1662, we see plans for a house twice as large, a gigantic baroque palace with four towers. It would become a general factory office, with the aim of promoting Swedish exports. But that doesn't happen and the city steps in and has a smaller building erected: a main building facing Götgatan and two wings facing a Russian trading quarter — Ryssgården.
A fire hits the house immediately
Just as Södra stadshuset is completed in 1680, a fire breaks out at Ryssgården which spreads. Among other things, the lantern on the roof of Southern City Hall is destroyed. Under Tessin the Younger's leadership, the house is renovated and gets a new look.
Witchcraft crimes and pub life
Meanwhile, Södra kämnärsrätten (roughly today's district court) with its feared city prison has moved in. In court, eight women are sentenced to death for witchcraft crimes in 1675—76. In part of the prison on floor 2 we find today's exhibition about Münchenbryggeriet. Adjacent and below is the popular pub Södra stadshuskällaren where Bellman and friends feel at home. It is also called Malmens källare. Today we can see it in the museum under the name Källarstugan on floor 1, as it looked in 1748.